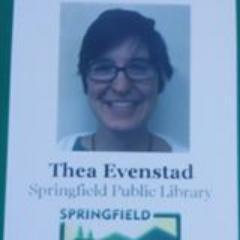 Thea Hart
Springfield Public Library
Adult Services Librarian and Arts Commission Liaison
Eugene, Oregon Area
wheremindsgrow.org
My first name is pronounced Tay-uh. Previously I worked as a part-time Reference Librarian at McMinnville Public Library. I volunteered as a librarian for Answerland from 2011-2015. I am a graduate of Emporia State University's SLIM Oregon program (Cohort 11 - MLS '12).

I am the Exhibits Chair for the 2017 OLA Conference and I have learned a lot being on the planning committee! I am the chair of the OLA Reference Round Table.

Affiliations: RRT, PLD, LART, LTRT

Professional Interests: innovative reference service, libtech, UX, adult library programs, and outcome-based evaluation/assessment.

I also like to volunteer and be involved in my community. I like reading; gardening; natural history, plants, and butterflies; hiking and backpacking; yoga; riding my bike around town; knitting/sewing/quilting; and playing cards or games. I am a Unitarian Universalist. I sing and play flute and piano.

Also I got married in May 2016, so you may have met me as Thea Evenstad in the past. Have no fear--I am still the same eager librarian I used to be!